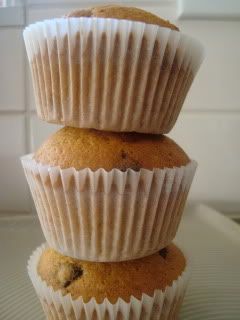 I'm jealous of anyone that is eating one of these muffins when I'm not.
I know that Australians get pretty uneasy about pumpkin being used in sweet treats. You're all about roasting pumpkins or pureeing them into a soup. But I'm all about the pumpkin pie, pumpkin cake, pumpkin cookies, and best of all- pumpkin chocolate chip muffins.
I just realised what a cute word "pumpkin" is. It sounds like the name of a little creature. Maybe the adult of the species is called a "pump" and the babies are "pumpkins." I bet that if a pumpkin scurries across your path, it would mean good luck for infinity.
I got this recipe from
JoyofBaking.com
. I mostly stuck to it-- the only changes were margarine instead of butter, a little extra vanilla, dark chocolate instead of semisweet, and fresh pureed pumpkin instead of canned. These muffins are sweet, but very wholesome and aromatic (thanks to the nutmeg, cloves, ginger, and cinnamon). I used dark chocolate chips, and in my opinion that's the right thing to do. Milk chocolate would be tasty enough, but I think the richness of the dark offsets the pumpkin rather nicely.
Oh, and, the fee for reading this blog entry is one muffin. Pumpkin Chocolate Chip, please.
Pumpkin Chocolate Chip Muffins
1 1/2 cups all purpose flour
1 teaspoon baking soda
1 teaspoon cinnamon
1/4 teaspoon ground ginger
1/4 teaspoon ground cloves
1/4 teaspoon freshly ground nutmeg (so you're supposed to get a packet of whole nutmeg pods and grate one... but if it's impossible or too much effort, just use the pre-ground stuff)
1/2 teaspoon salt
1/2 cup unsalted butter at room temperature (I used margarine)
1 cup white sugar
2 eggs
2 teaspoons vanilla
3/4 cup pumpkin puree (I used the Kent variety and it was fantastic. Cut the rind off the pumpkin, steam it, then mash it. Alternatively, use canned pumpkin)
1 cup chocolate chips (do the right thing...)
1. Preheat oven to 350 F (180 C), grease 12 muffin cups and put them in muffin tray
2. In a large bowl, sift together flour, baking soda, ground spices, and salt
3. In a separate bowl, cream butter and sugar (better to use an electric mixer, but I did it by hand)
4. Add the eggs, one at a time, beating well
5. Beat in vanilla
6. Alternate adding 1/3 of the flour mixture and 1/3 of the pumpkin puree, mixing after each addition
7. Add chocolate chips
8. Distribute evenly in muffin tin, ready with greased muffin cups
9. Bake for 18-20 minutes